IDC Technology Spotlight and Video: Managing Applications Across Hybrid Clouds
Businesses have embraced cloud computing as a key element in their pursuit of digital transformation — and a multicloud strategy is increasingly the norm. They are adopting hybrid cloud management solutions that enable deployment and management of applications in datacenters and multiple cloud environments in a controlled, secure, and efficient manner.

This paper examines the benefits of managing applications across hybrid clouds. It also looks at Cisco's role in the marketplace for application-centric, hybrid cloud management solutions.

In the video, CloudCenter's Dave Cope is joined by IDC's Brad Casemore for a discussion that drills down on the myths and realities of hybrid cloud as well as how businesses are rolling out hybrid cloud environments.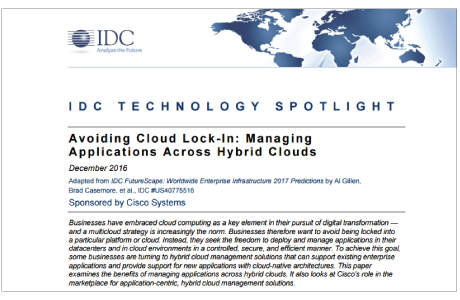 Complete the form to view